Broadcaster Chat Settings
These are very useful in enabling you to control all aspects of the chat window, as well as deal with the users who visit your room.
To access this list of options, look for the settings tab along the top of the chat window.


You will then be presented with the list of options, as in below.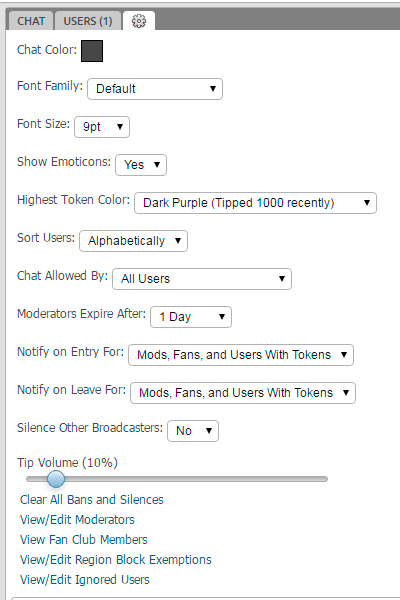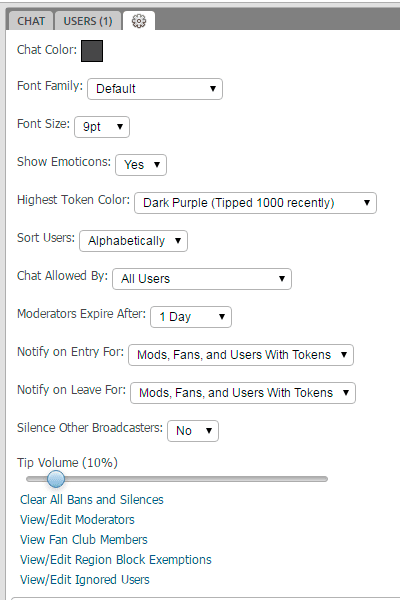 Chat Color
The default colour that all chat text appears in is a dark grey, as shown in the main options image. However, you can change it if you prefer an alternative.
Click on the colored square & you will see a color chart, as in below.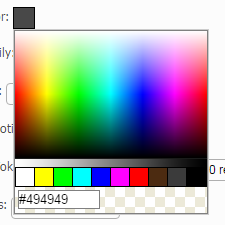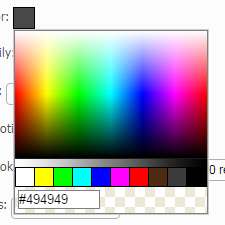 So to select a different colour, either click in the array, choose a colour from the 10 shown below it, or enter the hex code if you know it.
Font Family
There are a number of different fonts you can choose from for the text in the chat window. Just click on the drop-down & you'll be presented with the available choices.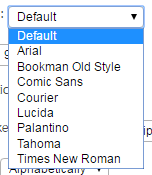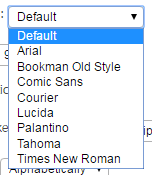 This can be tested out while not broadcasting.
Font Size
As in the font family, a drop-down list of available font sizes can be chosen from. This is a very useful feature for comfort's sake, especially if you are using a laptop. So to be able to see the chat more easily, set a larger size.


Show Emoticons
You may know them from your mobile phone (cell phone). For Chaturbate, there are some that are the same, but they also include much larger images, sometimes animated, sometimes explicit.
If you don't want to see them, just set it to No.

Highest Token Color
Normally, users name colour is assigned based on certain criteria.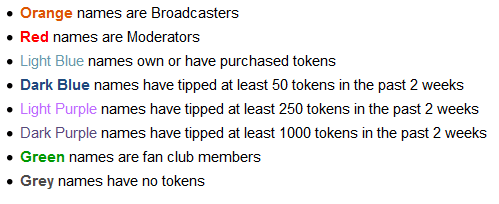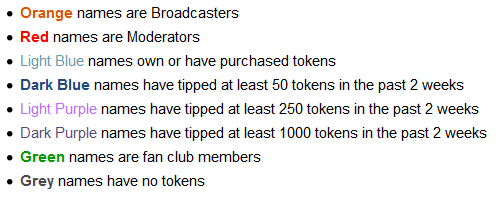 This option allows you to change that token specific color.


The default is Dark Purple. Meaning that you will be assigned the correct colour depending on your tipping pattern.
Why do we have this option?
Some models & mods tend to give special attention to users they know have tipped more. If you would prefer to avoid this, just set your colour to one of the lower settings.
Sort Users
This is a simple setting for organising the tab showing the users. You can either show them in alphabetical order, or by token amount.

Chat Allowed By
This option allows you to control who can actually chat in your room.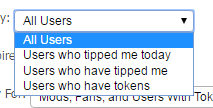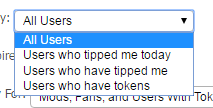 All Users – Everyone can chat regardless of tipping or colour
Users who tipped me today – Only a user has tipped you that day will be able to post in the chat.
Users who have tipped me – Once a user has tipped you, regardless of the day, will be able to post in the chat.
Users who have tokens – No Grey Users can post in the chat.
Moderators Expire After
When you make someone a moderator, you can use this option to specify for how long.

It's a useful feature for making sure you have the right person as your new moderator. Setting the time period to 1 or 2 days should enable you to find out if that person is right for you. If they are, you can always set a longer period when the time limit expires.
Notify On Entry For / Notify On Leave For
This is a feature some models will use to enable them to spot a user entering & leaving their room.


Models can use the top setting to greet users with tokens, as well as spot their mods & fan club members.
The second setting enables them to see when their fans & mods enter and leave their room.
The final setting stops the notifications completely; very useful in a busy room.
Silence Other Broadcasters
When another broadcaster is in your room, this setting can be used to silence all of them.
Some broadcasters will enter a models room & try to lure users to their rooms by announcing their room details. Setting this to Yes, denies another broadcaster the ability to chat in your room.
Tip Volume
When a user tips, a sound is played in your room. Depending on the size of the tip, various sounds are played with increasing volume. Using the slider to lower the volume may be useful if you need to keep the volume low.


Some "toys" work based off the sound they hear, and the volume, such as the original ohmibod. You can check out models using these types of toy to see how they work.
Clear All Bans and Silences
When you ban or silence a user, their names are added to lists. This setting can clear those lists of all names.
Be very careful using this setting. There is no confirmation request before the lists are cleared.
View / Edit Moderators
A window is displayed, allowing you to view & edit the moderators you have set.
View Fan Club Members
Clicking this setting will display a window showing your current fan club members.
View / Edit Region Block Exemptions
When broadcasters block a state, or country, you can let certain usernames bypass the geo-block by entering the username in this window.
View / Edit Ignored Users
If you have "ignored" any users previously, you can use this setting to both view & edit the name in the list.
To ignore a user & add them to this list, right-click on their name in chat & then click ignore.
---
---
---
---
---
---
---
---
Creating Professional Profile Page
Your profile page is a way to stand out from the crowd. Most new models have a simple text-based profile that doesn't give much information about that model or the shows. Having a full bio, a tip menu, chat room rules and what you're willing to do can be incredibly helpful. It lets potential customers learn more about you and see if what you offer caters to their fetishes.
All your bio / personal information will also appear underneath the chat box and your live feed. This section will also display any photo or video content you've got for sale. Chaturbate let's you add certain HTML elements to your bio description and this can be used to create stunning visual bio pages.