Posted by SexyLady, on 27-11-2017, 7866 views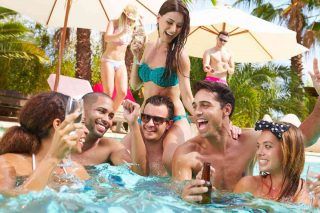 Mercy was all alone at home and idle so she started thinking about sex and she thought it will be nice to find any guy for a random sex. She picked up her daily newspapers and checked for guys who posted that they want a girl. She wanted to have her pussy stuffed to the limit. She can't remember the last time she had a proper sex after she broke up with her boyfriend, and she wants that feeling this particular night.
Mercy found an ad that read, "Threesome fun for sexy lady."
Mercy knows she fit the bill. After all she always wanted to try group sex, she has been watching it in porn but never experienced it before, and this is probably the best time to try something funky.
Mercy called the exchange to answer the ad and she entered the ad number 5076. She felt her pussy dripping.
Mercy was anxious which is normal since she has never tried group sex before, she showered quickly and put on her sexiest top that revealed her massive DD size big oranges on her chest and she matched the dress with a sexy black miniskirt.
Mercy had showed in response to the ad that she was available and ready to tangle for that night. She thought it would be a new adventure for her. The guide she got from the ad was with the address of the hotel and the room she is supposed to check in which is in the center and busy area of Glasgow
The Hotel looked run-down like a truckers' stop but Mercy was horny and only wanted to get laid for the night. Two muscular and well-built men probably I there mid-thirties answered the door when she knocked on the room the ad instructed her to enter.
"Yes cute lady can we help you?" they asked in unison.
"Well yes I am here for my date. This is the right place for ad number 5076 right?"
The two men looked at her then looked at each other and smiled while one of them said wow we have a really pretty one here and they told her she is the most beautiful girl that have ever joined them in the party because they are not new to this game they have been doing this for some years now.
And just you know lady you are not the first to come here this night, we are a very patient set of guys and we are not the only guys we are a group of 10 guys, so lady do you think you can take us? The first lady that checked in wasn't pretty so we scared her out, and the one before her was very pretty but the moment we told her we are a gang of 10 she ran away so are down for business we guarantee you that it will be fun filled, the other guy then told her he wouldn't like this round big, sexy breast pass him by this night.
"Oh my goodness! What am I in for?" Mercy asked the two men.
But you will do nicely as your tits are nice and round and you seem horny. Are you horny, my dear, huh?" the men asked.
"Well yes, I am. O.k. I'll stay. What do I have to do?"
"Just leave everything to us we would take over from here if you don't mind," one of the men replied man replied and they started to asked her to take her sit, and they offered her drinks while they started talking randomly trying to make her feel comfortable because she is showing signs of nervousness.
The moment she got very comfortable she started touching of the guys dick, and told them she will like to taste some dicks and the time is wasting they should quickly get down to business, then she asked where are the remaining guys she will like to see everybody she asked them if they are lying to her?
They now replied her that the other guys went for walk and they will be here before she know it, don't worry young lady you will get more than you bargained for but you will enjoy it though so chill and enjoy the two of us for now, one of the guy assured her.
They both grabbed each breast the same time and started sucking the life out of it like a hungry kid, who has not been fed for days, and she started moaning as they suck hard and caress her breasts.
"Umm that feels so nice. I want a cock in my pussy now," she said.
"How about two?" the men asked her.
"Sure, why not," Mercy replied.
He fumbled at the back of her dress and then finding the tab of the zip pulled it down. She loved the feeling as the back of her dress parted. She even loved it more when she slid her arms out and it slithered down her body to the floor. It wasn't quite so nice a feeling though when she worried about it getting crumpled lying on the floor; that was more a wifely than a mistress feeling, she thought as she almost went to pick it up.
She is now completely naked before the two clothed men. She could feel herself dripping on to the bed. One of the guys pulled down her pants and roughly pushed himself into her wet pussy. He thrust faster than normal, almost like he was trying to push her through the bed. She was getting off on being fucked after being horny so long, but also on having Eric.
He then pulled himself out of her, pulled her up by her hair then lied on the bed then pulled her face down to his hard cock. She obligingly sucked her juices off of him. He loved the way she sucked his cock, and she was anxious to show the other guy her skill. At first the other guy just groped her ass, but when she moaned and wiggled more he thrust a finger into her, then another. She rode his fingers while trying to make sure she didn't miss a beat sucking the other guy's dick. She felt high on all the attention. Finally the guy pulled his fingers quickly pulled out his cock and easily pushed inside her. She had never experienced anything like this and felt for a moment she might black out with excitement.
He was bigger than the first guy and as he pushed himself deep inside her she tried hard to muffle her groans with the other guy's cock filling her mouth.
"Are you loving being our slut?" the guy she is sucking asked.
She looked up at him and nodded, continuing to suck him gratefully.
"Tell me how much you love my cock inside you!" The other guy taunted. She muffled and appreciative confirmation and he continued to slap his body against her ass.
The guy she was sucking was first to cum. He pulled himself out of her mouth and shot all over her face with a wicked look in his eyes. The guy inside her now had her to himself and he pulled his hair back as he seemed determined to push himself even deeper inside her. She was no longer trying to tone down her moans, letting herself go. She had cum several times by the time he shot into her, telling her what a good slut she was.
After about two hours of rhythmic fucking there was a knock on the door.
"Oh that must be the rest of our guys, we told you they will soon come for you. One of the guy stood up and opened the door for them all hefty muscular men, she thought about it if she can handle all this hefty looking men 8 guys for that matter.
"I want to cum in that little pussy of hers," one newcomer said.
"I'm next," another answered and so on around the room.
All of a sudden Mercy felt a throbbing sensation deep within her cervix. She was getting turned on realizing that all these men planned to cum in her pussy.
She yelled out, "Come on guys, I'm waiting to be filled to the rim."
Mercy was enjoying having these men DESIRE her and USE her. She was feeling wicked but so SATISFIED.
The men stayed all night. Sometimes they would double fuck her pussy and sometimes they would just fill it with their sticky, gooey cum.
Once she entered her car she inserted a finger into her own pussy and scooped out some residual cum still in her pussy. And that's how mercy got what she wished for.