Posted by SexyLady, on 20-10-2017, 997 views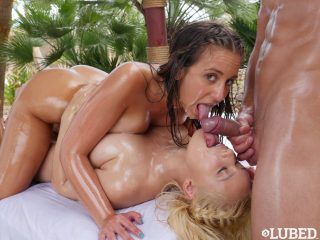 My bad day, it was a Monday and a very bad day. My alarm clock hadn't rung, I woke up late that day, and started preparing for work very late then I was stuck in traffic both ways, and ended up failing to turn in a few projects on time to my boss. Needless to say,
I was hoping and praying something nice will welcome me when I get home, I really needed it at this point of my life, after all the insults I got from my boss for late deliveries and all the sad day I office, only for me to get home to find out that my garage knob as broken, I never thought they can break. In fact this is the first time am seeing a knob break in my life.
I parked my car outside looking very exhausted and tired, I saw a car parking very close to our yard, but I didn't pay much attention not after having such a bad day, I don't have time and resources to start looking into too much details now. I just assumed it's either my wife's friend or a family member that visited us.
I got in and walked dejectedly to my room, only to find out that the room was locked, this made me smile as I remembered my school days how we used to break into apartments with coin as I brought out a coin in my pocket and opened the lock from the outside just like old times. Pushing open one of the doors, I couldn't believe what I saw. Caught in mid moan, the two naked women on the bed turned their heads as one, and looked at me with the same look that I must have been displaying. For about a minute, I stood and stared at them. Then I looked around. There were clothes and toys and oils and things everywhere. The women were laying on their backs on the bed, with their legs up in the air so that their pussies almost touched. They were drawn apart enough for me to see that a massive double-headed black dildo was linking their bodies. The friend was in the process of oiling her breasts, and my wife had a vibrator between her full tits. I could tell it had been oiled, by the way it gleamed in the light from the lamp nearby. It was humming in the silence. "What's going on here…?" I mumbled after a while. They laid perfectly still, and my wife pulled the vibrator from her tits. "Moses, this isn't what you think it is. Lizzy and I have found a way to explore our own bodies in a way we can both enjoy." "Why didn't you tell me about this?" "Well, we were worried about your reaction." My eyes were glued to the dildo that was very slowly working its way out of two hot cunts. "I think I could get used to this." My wife smiled evilly. "May we continue?" "By all means." My wife snapped the switch on the vibrator, and it began to hum faster. She dipped the twitching head to her nipple, leaned her head back, and impaled herself on that dildo. They both moaned at the same time, and I began to frantically undress. By the time I was naked, my 9″ cock was standing straight out, hard enough to be considered a violent weapon. I went to the bed where both ladies were busy working on their own pleasure, got up close for a good view, and set in for the show. My hand began stroking my dick slowly, and then Lizzy began to tremble. She was working hard on her oiled tits, forcing herself all the way onto that dildo, and watching my handle my dong, and she passed the point of no return. She screamed over and over again as waves of pleasure swept over her body, and then backed off the dildo, and lay spent. My wife kept on pounding it in, and came just a minute later, and then they lay back. "What a show," I said. My wife looked at Lizzy, and she looked at my wife, and then there were two busy tongues stroking my pulsing hard-on. Lizzy wasted no time cramming my entire cock down her throat, and my wife licked whatever was not in Lizzy's mouth. She used her tongue to caress my cock head, and quickly had me aroused to the point where, when my cock escaped her mouth for a second, a steady stream of my pre cum dribbled out onto my wife, who was busy suckling my balls. Lizzy wasted no time getting my shaft back into her mouth, and began to suck very hard, trying, I would guess, to taste my cum without me orgasming. A good 15 seconds of that compounded with the rapid pumping of her head on my pole sent me past the point of no return. I pulled out with a *pop* noise. "Who wants some cum….ughhh…" I moaned out as I began my fountain. Lizzy was quickly under me, and as my first load of thick jizz erupted into her mouth, the second one followed, before she could swallow. My wife grabbed my cock, turned it on herself, and pumped out three loads onto her face. Lizzy was quickly on her, licking off my seed. i laid back on the bed, and tried to catch my breath after the round of head I have just been given when i felt Lizzy climbing up onto my chest. "Jeff…will you eat me out?" "Sure. Climb on." Lizzy moved her body, and positioned her cunt over my tongue. She spread her cunt lips wide open for me, and dropped onto my mouth. i instantly began to lap up the sweet nectar dribbling from her cunt. She began to grind herself against my tongue as I lapped it up. I was so engaged in what I was doing, I barely heard my wife saying something. "Moses, I'm going to spear myself on your dong, ok? Moses? Whatever." I felt her grab my still hard penis, and stroke it a few times, then climb onto me, and place it at her snatch. Soon she was pumping me as fast as could with her sweet sex. After a few minutes, Lizzy gave another scream, and began to leak her nectar all over my face. When she had finally calmed down, she hopped off and began to lick the cum from off of my face. To make matters worse, at the same time, I was getting ready to cum in my wife. "Baby…I'm going to blow my load in your hot pussy!" "Blow it…fill me with your cum!" I moaned around the tongue cleaning my lips, and spurted what was left of my seed into her body. She slowly pulled off, and crawled around on the bed so that I could eat her pussy and she could clean off my dick. "I haven't cum yet, Moses. You can have both of us." And we both giggled.. that was how my sad day turned into a wonderful threesome.